Looking for the best social media post campaign or content ideas for your brands this Gandhi Jayanthi? Here is the complete article on the top 100+ Gandhi Jayanthi social media post ideas from the best brands.
Gandhi Jayanthi is celebrated every year on October 2nd in India. The day commemorates the birth of Mohandas Gandhi, who is also known as the "Father of the Nation". Gandhi was an influential political leader who fought for India's independence from British rule. He is also well-known for his philosophy of nonviolent resistance. He was the main driving force behind the Non-Violent movement which eventually led to India's independence from British rule. The holiday is typically marked with parades, speeches, and other public events.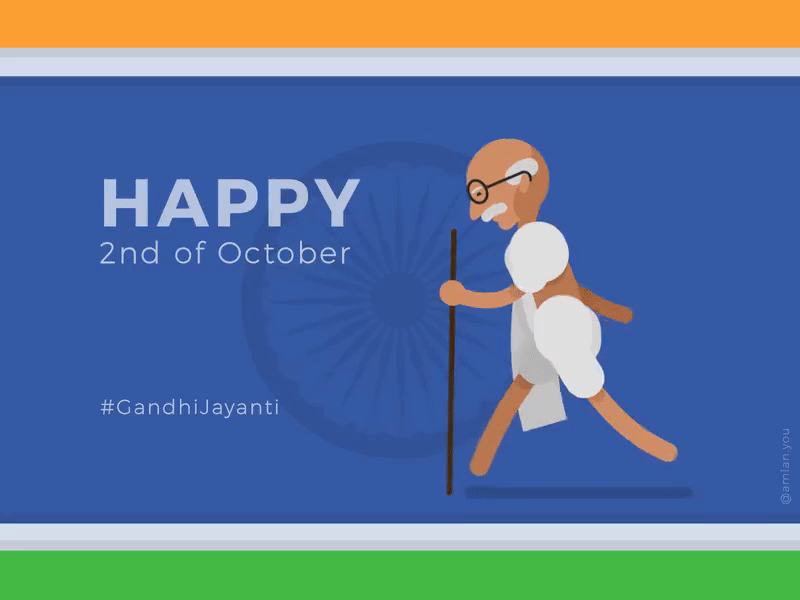 Gandhi Jayanthi every year follows on the 2nd of October. Start planning from today for your Gandhi Jayanthi social media posts.
Many brands use this day as an opportunity to celebrate Gandhi Ji and his ideals on social media. They share quotes, stories, and videos related to him and his teachings. Some brands also run special campaigns or discounts on this day in order to encourage people to follow Gandhi Ji's principles of Non-Violence. Whatever the case may be, Gandhi Jayanthi is always a great opportunity for brands to connect with their customers on a deeper level.
Let's see what are the best creative from the top 100+ brands and what are the social media post ideas for Gandhi Jayanthi they have used on the social media platforms like; Instagram, Facebook, LinkedIn, Twitter & others.
Top 100+ Gandhi Jayanthi Social Media Post Ideas
Here are the 100+ best social media post ideas for Gandhi Jayanthi from which you can learn and implement with your own creatives;
1. Unacademy
2. ixigo
3. Dunkin India
4. Mumbai Police
5. Nykaa
6. Yuli Bikes
7. Fevicol
8. Paytm
9. Faasos
10. Mc Donalds
11. Viacom18
12. Nature's Basket
13. Oyo Rooms
14. Pulse
15. Hockey India
16. Lumix India
17. Indigo Paints
18. Flipkart
19. Honda Car India
20. Modern Foods
21. Sterling Accuris Diagnostics
22. Medura Healthcare
23. Gatsby India
24. SBI Life Insurance
25. Bajaj Allianz General
26. Tata Motors
27. Reliance Digital
28. Amul
29. Bajaj Electricals Ltd
30. TVS Motors Company
31. Havells
32. Orient Electric
33. Godrej Appliances
34. Prestige
35. Butterfly Kitchen Appliances
36. Parryware India
37. Jaquar Lightening
38. CERA
39. H & R Johnson India
40. Nerolac Paints – India
41. Berger Paints India Ltd
42. Nippon Paint India
43. Dulux Paints
44. JK Tyre Motorsport
45. JK Cement Ltd
46. MRF Tyres
47. Saint- Gobain India
48. ICICI Bank
49. HDFC Bank
50. Kotak Securities
51. Nissan
52. Kia India
53. Hyundai India
54. Max Life Insurance
55. Khadim India
56. RedBus
57. VIP Bags
58. Crompton
59. Air Asia
60. FlySpiceJet
61. Levista
62. Usha
63. Lenskart
64. Specsmakers
65. Titan Eyeplus
66. Sonata Watches
67. Timex India
68. Snapdeal
69. Nissan
70. ZEE TV
71. Cycle Pure
72. Maruti Suzuki
73. Madars Coffee House
74. Milton
75. Prince Jewellery
76. GRT Jewellers
77. Ramraj Cotton
78. Make My Trip
79. Max fashion
80. Classmate
81. Nataraj Pens
82. Reynolds
83. Vi Business India
84. H & R Johnson India
85. My Voltas
10 Creative Social Media Posts/Ideas/Images/Drawings for Gandhi Jayanthi
10 Inspiring Life Quotes by Mahatma Gandhi
So yeah, these were the top 100+ social media post ideas for Gandhi Jayanthi. Hope you liked their social media campaigns and content ideas for Gandhi Jayanthi.
Want to see more social media creative ideas for Gandhi Jayanthi from the top brands? Check out – Here are the 10 Best Gandhi Jayanthi Social Media Campaigns & Contest Ideas.
This is the right time to show your creativity, ideas, & a lot more thing on this Gandhi Jayanthi. Get ready from today to build your ideas and show how "Proud you're by Gandhi Ji" with your social media post on Gandhi Jayanthi.
Best Hashtags for Gandhi Jayanthi Social Media Posts
Use the below hashtags to get better reach for your Gandhi Jayanthi social media post this year;
#gandhijayanthi #gandhijayanti #gandhi #gandhiji #mahatmagandhi #gandhiquotes #india #gandhijayantispecial #october #fatherofthenation #fatherofnation #mahatma #nonviolence #gandhinagar #freedom #peace #indian #love #bapu #gandhiashram #mahatmagandhiquotes #art #quotes #follow #narendramodi #ndoctober #happygandhijayanti #gandhijayantiwishes #ahmedabad
Join the best of the best Instagram reels mastery course to upgrade your brand to the next level. Learn the tips and tricks from India's top Instagram influencer – Sorav Jain, and get lifetime access to the reels mastery course.
Happy Creatives for Gandhi Jayanthi Social Media Posts!!